Respuesta a: Que personajes hubieran sido interesantes en anteriores Super Smash Bros?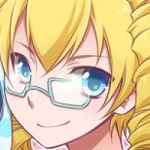 Kry / フェリペクライ
Participante
179 mensajes
Desde May 2014
Bogota D.C
Publicado el 07/01/2023 a las 4:27
De Nintendo de Starfox seria darle la oportunidad a Kristal, ella podria haber recibido su oportunidad y quitarle el rol de Assist Tropy y de Donkey Kong seria Dixie Kong o Funky Kong, por lo menos deberian meter a un Kong por cada entrega eso yo opinaria y de la saga F-Zero, pondria a Ryu Suzaku o al villano que es Black Shadow que estos 2 personajes seria perfecto para que acompañen a Captain Falcon en Smash.
Esto serian mis personajes de Nintendo segun a tu pregunta JAGMGeorgy.
Forging my way, someday I will achieve my dreams, Story of Hope taught me that when you lose hope you just have to draw it in my mind & continue with my path.
Nintendo SW ID: フェリペクライ
Friend Code: SW-8186-1160-1925